Carbon Fiber Spars
---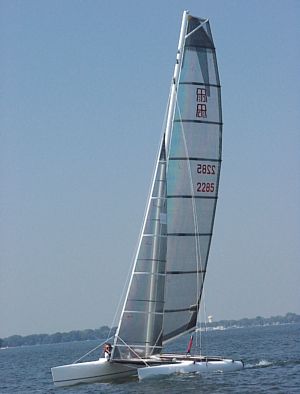 For over 20 years Aquarius Sail has been utilizing carbon fiber in the construction of their high performance catamarans and the spars that are used on them.
Carbon spars are available in two cross sections and lengths up to 50 feet. Smaller spars utilize a solid carbon fiber construction while the larger spars typically utilize a hybrid carbon fiber - foam core construction which produce unequaled weight and stiffness/bend characteristics that are optimized for you application.
Every carbon fiber spar is built with the same attention to detail that goes into all or our products. We utilize high performance carbon fiber and epoxy resins and finish every spar with premium acrylic urethane top coat which will helps to protect from UV breakdown. All fittings are stainless steel and every mast is sealed to help provide positive buoyancy during a capsize, this includes masts with internal halyards or other rigging.
Every spar is designed for your application and to your specifications. If you are interested in having Aquarius Sail build your next carbon fiber spar please contact us to discuss your application.
For additional information on this or any other product from Aquarius Sail please Contact Us to receive additional product information and literature.