The RC-27
---
Product Overview: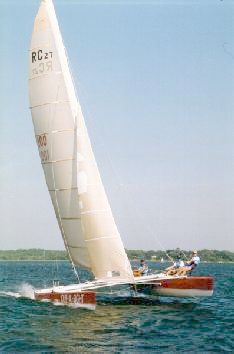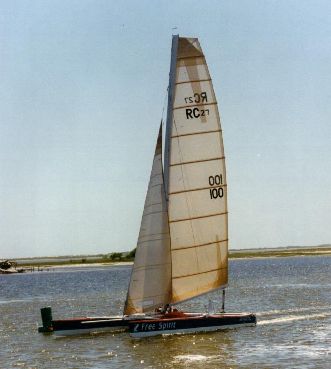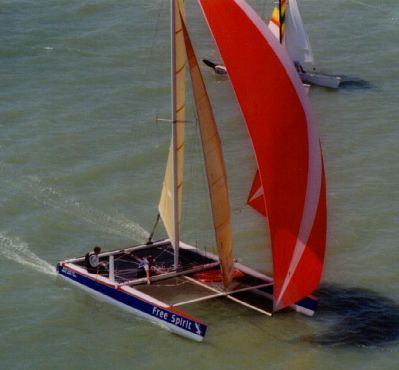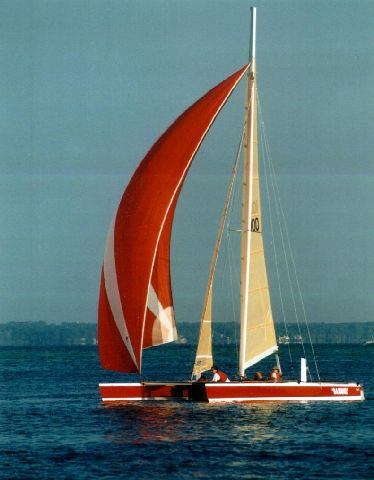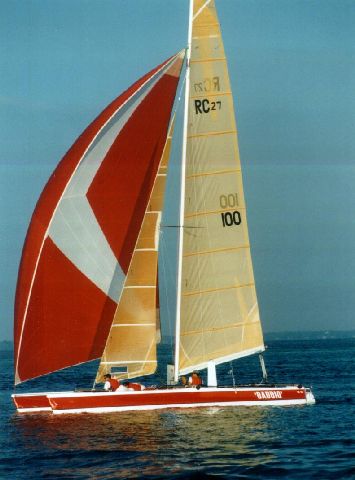 The RC27 has been a legend in high performance catamaran sailing circles since 1985. Winning countless closed course and long distance races world wide, the RC27 has proven that it is a formidable sailing craft. Designed for the seasoned cat sailing aficionado and racer, the RC-27 is a world class boat that can sail circles around production and custom catamarans costing easily twice as much or more. The RC-27 was designed to provide comfortable high-speed sailing in a package easily handled by a crew of two or three.
Advances in materials and processes as well as
improved fittings allows us to again raise the bench mark in the competitive arena. The all Carbon Fiber Foam Core construction including the hulls, Mast and beams keeps this sailing machine on the cutting edge of technology. Keeping components & controls simple and light weight allows two people to easily rig and sail the RC27 in a wide range of conditions. Adequate buoyancy also provides additional flexibility in regards to crew size. The RC27 will provide amazing performance and assure its owner of lasting value in a boat built for competition.
Transportability is assured with simple lightweight components that are readily assembled in limited areas. No need for launching ramps or hoists. An area roughly the size of the RC27 is adequate and launching is accomplished off the beach with simple dollies. All components are easily handled by one or two people. Rigging and mast stepping is accomplished with a gin pole system.
Simplicity in sail controls was a prime goal when rigging the RC27. The self tacking jib system has proven itself over many years of both competitive as well as day sailing adventures. Tacking up wind now becomes a joy with a jib that is essentially self tending. No more mad scrambles to release the jib sheet and the resulting adjustment for the new tack. Sit back and relax as you work your way to windward with each tack as quick and sure as can be. The forward traveler controls now allows the crew to trim the traveler. Correct traveler trim is now easily accomplished from just about any crew position and what a difference that can make in shifty or gusty wind conditions. Keeping the RC27 sailing at high speeds is assured by well thought out sail controls and quality components.
For additional information on this or any other product from Aquarius Sail please Contact Us to receive additional product information and literature.